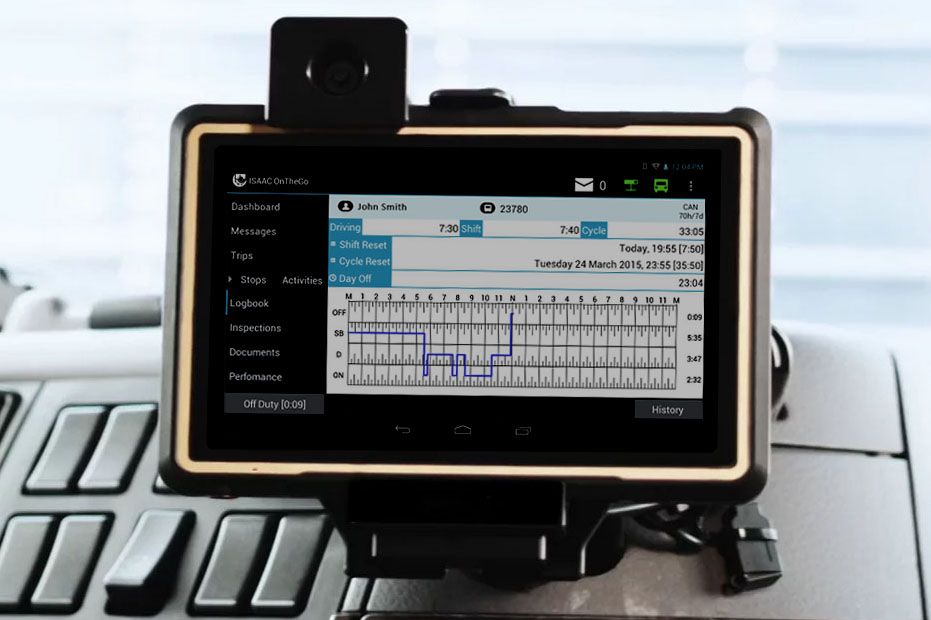 IT'S OFFICIAL – E.L.D.'s ARE NOW THE LAW
If you haven't prepared for the changes that the law requires, over the next 2-3 months we are going to guide you through the process. The guide will cover:
• What an ELD is, and how it functions
• How the ELD rule affects you – or, if you are exempt
• How much time you have to comply
• Your options for compliance, now and later
• How to choose an ELD for your business
• A checklist to help you get started
Are you E.L.D. ready?
What ELDS will do – and why
An electronic logging device or ELD is a device that integrally
synchronizes with a vehicle engine to automatically record
driving time, for easier, more accurate Hours of Service (HOS)
recording.
A tablet computer is mounted in the cab of a vehicle so that drivers can view their HOS or record of duty status (RODS) data and present it during a roadside inspection. An ELD replaces the driver's paper logbook when recording HOS. The data are electronically transferred to the office where compliance and fleet managers can pull reports to evaluate the information. An ELD offers advantages over a paper log in both accuracy and efficiency across an entire fleet by reducing paperwork for drivers, administrative errors and workload for back-office staff.
The ELD Final Rule was enacted by the Federal Motor Carrier Safety Administration (FMCSA) as a measure to improve road safety and save lives. But compared to the paper logs they replace, ELDs go beyond satisfying regulations. They also help commercial trucking fleets reduce HOS audit fees, decrease road-side faxing fees, prevent manual errors in paper logs, improve communication between drivers and managers, and increase efficiency in vehicle inspections.
ELDS ARE REQUIRED TO KEEP TRACK OF:
• Date
• Time
• CMV geographic location information
• Vehicle engine hours
• Vehicle miles
• Driver or authorized user identification
• Vehicle identification
• Motor carrier identification
ELDS AUTOMATICALLY RECORD THE FOLLOWING EVENTS:
• Engine power-up and shutdown
• Driver logon/logoff
• Duty status changes
• Personal use
• Yard moves
• Certification of driver's daily record
• 60-minute intervals of CMV in motion
• Malfunction and diagnostic events
How To Know Where You Stand
If your operations include keeping an HOS log you're probably in the ELD category. Every driver who use paper logs or the device known as an AOBRD (Automatic On Board Recording device) will need to convert or upgrade to the government-defined ELD standard.
It's important to note that paper logs continue to be required and must be maintained as a backup, in case of ELD failure. And, that record keeping with paper RODS is allowed for no more than eight days within any 30-day period.
AN ELD WILL BE REQUIRED FOR A DRIVER OR VEHICLE IN ANY OF THESE CATEGORIES:
• Interstate drivers currently required to keep RODS
• Vehicles that weigh more than 10,001 pounds
• Vehicles with placarded hazmat loads
• Vehicles carrying more than 8 or 15 passengers, depending on vehicle class
AN ELD WILL NOT BE REQUIRED FOR A DRIVER OR VEHICLE UNDER ANY OF THESE EXEMPTIONS:
• CDL carrying CMV drivers who operate within a 100-air-mile radius, who may continue to use timecards
• Non-CDL carrying freight drivers who operate within a 150-air-mile radius
• Drive-away, tow-away operators
• Vehicles manufactured before the year 2000